Glory Days Presents! In-Person Show + Live Stream!
Wed, Dec 16, 2020
Doors: 7:00pm Show: 8:00pm
The Red Elvises are coming to High Dive! In Person Show + Live Stream! Come watch it with us or watch from home at HighDiveGville.VEEPS.com
Glory Days Presents!
In Person Show + Live Stream!
Wed Dec 16
THE RED ELVISES
Fawg Faux
with special guests!
Doors 7PM / Stream 7:30PM / Show 8PM
$12 ADV /$15 DOS
Capacity will be limited to about 30%, fully seated and distanced in a checkerboard pattern with groups of 2, 3, and 4 seats. Single attendees sit on the bleachers.
We offer contactless ticketing in advance online or at the door. We expect many shows to sell out in advance due to capacity
Live Stream tickets are available on a "pay what you want" scale at
https://highdivegville.veeps.com/
Igor Yuzov was born in Germany, raised in Ukraine and studied in Russia. He grew up in the former Soviet Union, where folk music was the norm and rock'n'roll was illegal. A rebellious streak, however, led him to seek out the forbidden music. As soon as it became possible, Igor left Russia for America with his "Folk'n'Roll" band Limpopo and was personally greeted by Ronald Reagan. In 1993, Limpopo won Ed McMahon's Star Search and their popularity began to blossom. In 1995, Igor dreamed that Elvis Presley came to him and told him to start playing rock'n'roll. Igor and his Russian friends became Red Elvises and gave street performances on Santa Monica's 3rd Street Promenade. As their crowds grew larger, the City of Santa Monica ordered them to discontinue their street performances. Evolving over the years, Igor's music has been labeled "Siberian Surf Rock" which contains humorous lyrics and grooves that forces his audience to dance. Over the past 20 years, Red Elvises have constantly toured all over the world with occasional breaks to record new music and to participate in film and television projects.
As an independent band, Red Elvises have produced 12 studio albums, two live albums, a live concert DVD, and a Greatest Hits compilation. Some of their most notable film contributions include music and or performances in "Six String Samurai", "Mail Order Bride", "Armageddon", "Skippy", "Melrose Place", "Fastlane", "Penn and Teller's Sin City Extravaganza", "VH-1 Behind the Music", and "MTV". Red Elvises have performed for large festivals, private parties, and played on massive stages such as 2005's Live 8 Benefit Concert. No matter where they perform, Igor & Red Elvises always bring the party with them.
For more biographical information about Red Elvises, order or download the book "Igor and the Red Elvises" by Marla J. Selvidge.
LINKS
https://www.facebook.com/igorandredelvises
https://twitter.com/red_elvises
https://www.youtube.com/user/IgorAndRedElvises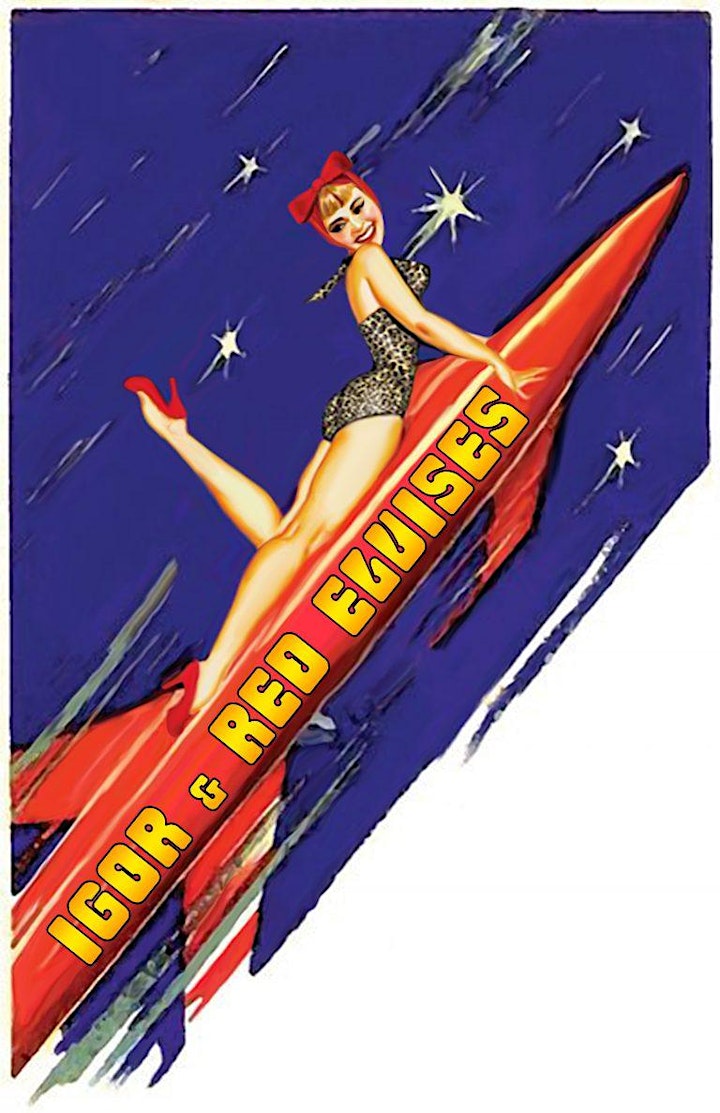 SHOW DETAILS
• 18 or over, unless accompanied by parent or legal guardian.
• NO SMOKING inside the venue.
• Smoking allowed outside in the Beer Garden!
• $3 under 21 fee charged at the door.
• All ticket sales are Non-Refundable unless the show is cancelled.
SAFETY GUIDELINES
• Temperature checks at the door. 99.4 is our limit. Those who exceed the max temp will be given a credit to a future show.
• Capacity will be limited to about 30%, fully seated and distanced in a checkerboard pattern with groups of 2, 3, and 4 seats. Single attendees sit on the bleachers.
• Masks will be required inside at ALL TIMES.
• Drinking and eating will only be allowed OUTSIDE in the Beer Garden so there is absolutely no reason to remove your mask inside! All outdoor bar service will be at tables only. The show will be viewable from outside via TV and stereo relay.
• Standing / dancing will be permitted inside but only if standing directly in front of your seat or going to the bathroom.
• All ticket sales will be contactless and in advance. We expect all shows to sell out due to the very limited capacity.
• An inherent risk of exposure to COVID-19 exists in any public place where people are present. By entering High Dive, patrons voluntarily assume all risks related to exposure to COVID-19.
Thank you for supporting our efforts to be safe and creative in order to bring your the best entertainment Gainesville has to offer.