The ORIGINAL GAINESVILLE FOOD TRUCK RALLY! Benefitting Peaceful Paths!
Sat, Jan 30, 2021
Show: 5:00pm
Celebrating 8 years of the Original Gainesville FOOD TRUCK RALLY at High Dive! Saturday January 30th at 5PM! Benefitting Peaceful Paths!
The Original Gainesville FOOD TRUCK RALLY returns Saturday January 30th at 5PM! Benefitting Peaceful Paths!
Celebrating 8 years of the very first food truck rally to happen in Gainesville, right here at High Dive!
Original Gainesville FOOD TRUCK RALLY – 8TH ANNIVERSARY
Sat January 30th starting at 5PM
Benefiting Peaceful Paths!
—————————————————-
COVID SAFETY PROTOCOLS IN PLACE!
– Safe, Outdoor event!
– Limited Overall Event Capacity to allow for social distancing
-Masks required unless seated and eating / drinking
– Increased Outdoor Seating in parking lot and Beer Garden
– Distanced indoor seating at High Dive
– Bar Service in the parking lot or outdoors in Beer Garden
—————————————————-
FREE LIVE MUSIC INSIDE HIGH DIVE FROM 6:30PM – 9:00PM
Featuring:
The Medicine Show
Thomas Allain Band
FOLLOWED BY GNVPUNK POP PUNK & EMO PARTY (Cover Charge required at 9pm)
—————————————————-
PARTICIPATING VENDORS:
Apps
Bz Gelati
The Chameleon Food Truck
Crave BBQ
Miller's Funnel Cakes
Monsta Lobsta
Papa Pineapples
& more tba!
Glory Days and High Dive are excited to give you the unique opportunity to try a variety of delicious, high-end foods at affordable prices all in one place. Food trucks from across the area and beyond will be serving up unique, gourmet style fare to Gainesville's hungry masses at this one-of-a-kind local event! Vegetarian options available ! Plus a completely FREE concert with local music inside High Dive.
—————————————————-
RAISING MONEY for the Peaceful Paths!
Peaceful Paths is the certified domestic violence center that serves survivors of domestic violence in Alachua, Bradford, and Union counties. Since the early 1970's Peaceful Paths has provided a wide range of services including emergency shelter, 24-hour helpline, victim advocacy, children's programming, education and training, crisis counseling and support groups, community awareness and intervention, and violence prevention programs. Peaceful Paths is a member of the Florida Coalition Against Domestic Violence (FCADV).
MORE INFO:
—————————————————-
NO TICKETS NEEDED FOR THIS EVENT, its completely FREE, so come on out and bring all your friends and family!
—————————————————-
Some quick tips for the event:
1) Completely FREE. No Admission charge for this event.
Bring the whole family and your (well behaved) dog !
2) Vegan and vegetarian options available
3) The event starts at 5pm but will go into the night!. Its not necessary to arrive right when the event starts. Lines will be manageable and most wait times will be in the 10 minute or less range
We encourage you to hop around and try something from everyone! The rally has appetizers, main entrees and even dessert !
Some of the trucks will be prepared to served all through the night ! The more popular trucks will simply be eaten into submission earlier in the night !
4) Drinks and seating available in the parking lot or Beer Garden at High Dive.
5) Due to new city laws, Alcohol can now be served and consumed in our parking lot ! No outside drinks !
6) The event benefits a LOCAL CHARITY! The vendors and venue are donating a part of their proceeds and we encouraged you visit their table near the High Dive entrance to see how you can further support their cause.
7) Bring an ID! High Dive is a bar and local laws require a drivers license or passport to enter.
8) Free street parking available in the area (no charge for meters on weekends), or park next door in the SW Parking Garage ($5). Please DO NOT park in the surrounding businesses parking lots (IE The Jones, you will be towed)
9) Some vendors take credit but some only cash. ATM inside High Dive, but please come prepared. PS Tipping is appreciated !
10) Please do not litter the parking lot. Garbage cans will be dispersed throughout the area.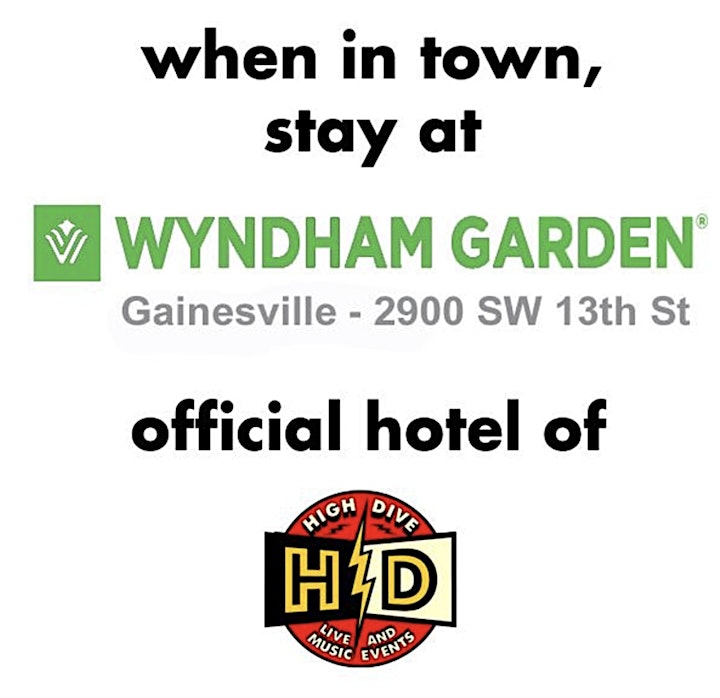 http://www.wyndhamgardengnv.com/