Glory Days Presents!
Wed, Apr 29, 2020
Doors: 8:00pm Show: 9:00pm
Kero Kero Bonito returns to High Dive WEDNESDAY APRIL 29TH!
Thu April 29
KERO KERO BONITO
with special guests
Doors 8PM / Show 9PM – $15 ADV / $18 DOS
Tickets available online, at Hear Again Records ($1 FEE), and at the High Dive box office (NO FEES!).
We're Kero Kero Bonito, a band from London, England. We met on an internet forum in 2013; singer Sarah was born in Nagoya to a Japanese mother and British father, before moving to Kenilworth, UK at the age of 13, while producers Gus and Jamie have been friends since school.
We shared our pop universe on Intro Bonito (mixtape, 2014), Bonito Generation (album, 2016) and singles like "Flamingo" and "Trampoline". In 2017 we returned to the suburbs that made us and started rehearsing with guitar, bass and drums.
We introduced our new style with TOTEP in February 2018, and our second album Time 'n' Place was released October 2018. Signposted by the songs "Only Acting" (pop-punk noise) and "Time Today" (chipper Casiotone melancholy), Time 'n' Place is our response to indie-rock history.
LINKS
https://www.facebook.com/kerokerobonito/
https://www.twitter.com/kerokerobonito/
https://www.instagram.com/kerokerobonito/
https://kerokerobonito.bandcamp.com/album/civilisation-i
https://open.spotify.com/artist/6OqhFYFJDnBBHas02HopPT?si=pwf7iMsHQCyk5GsD_cQTQQ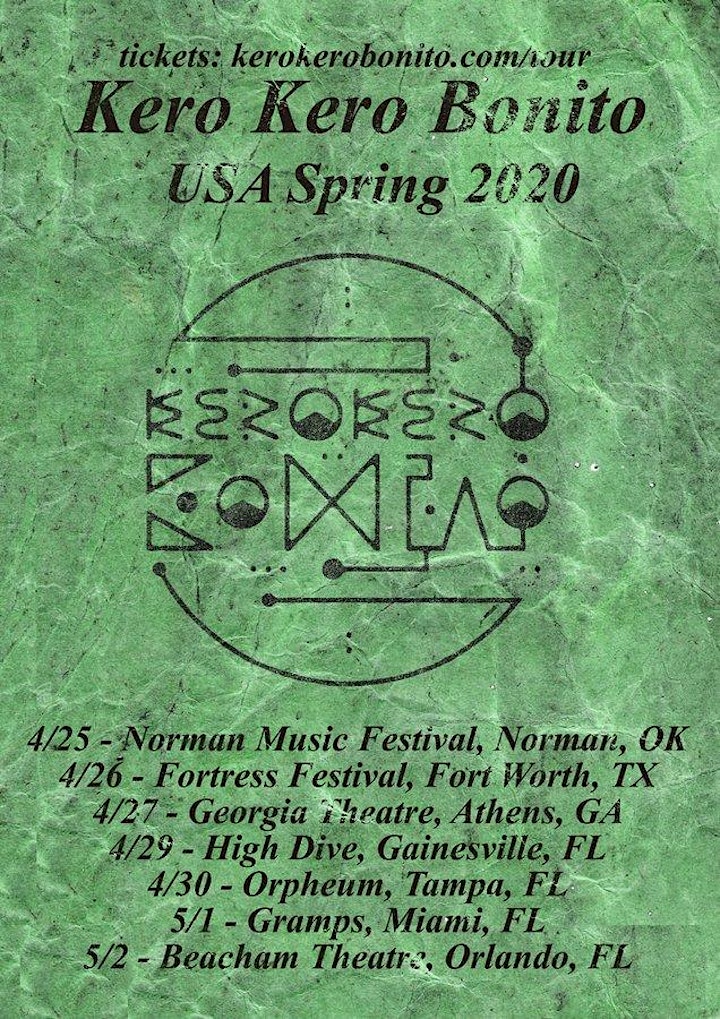 SHOW DETAILS
• 18 or over, unless accompanied by parent or legal guardian.
• NO SMOKING inside the venue.
• Smoking allowed outside in the Beer Garden!
• $3 under 21 fee charged at the door.
• All ticket sales are Non-Refundable unless the show is cancelled.
• All shows are general Admission Standing unless seating is specifically mentioned. Typical bar seating is available on first come, first serve basis.